Horse Training
My training program consists of working with you and your horse as a team to develop specific training goals. I place a strong emphasis on teaching the basics, starting with ground work. I continue to work with the horse from the ground and in the saddle to aid in the horse's understanding of what is being asked.

You can think of the horse's education as a series of building blocks or tools that the horse will have available to offer to you. As both you and your horse's knowledge base increases, you'll find that your relationship with your horse will become more harmonious and productive toward your goals.

Benefits
The horse understands what is being asked by the rider.
The horse becomes lighter, more supple, calmer, and well conditioned.

The horse becomes an interested partner in his or her schooling.
The horse learns a set of "tools" that the rider can ask for when working with the horse.
The horse is better equipt for a successful relationship with his or her owner.
Requirements
The horse must be sound and healthy to go forward with training.
The owner must be patient, open minded, realistic in their expectations, and willing to learn themselves (Please see the Lessons page. The owner's willingness to learn is paramount in the horse's continued success).
Training contracts are required.
Payment Options


Please call or e-mail for appointments and pricing. I accept personal checks, money orders, cashiers checks, and major credit cards online.

Online credit card payments are made through PayPal. PayPal is a secured site where you can send payment by entering your credit card information and my business e-mail address. My business e-mail address is: tina@tinahuston.com. Simply select the PayPal button below and follow the instructions to make a credit card payment.

Please contact me with any questions. Thank you.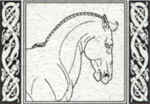 A horse with a quiet mind is a horse with a relaxed body.

Customer Comments:

"She's like a different horse. She so much quieter." - Karen

Ibn is a different horse. We can actually get shoes on him, now and he's quiet about it." - Linda

"My horse is much more responsive." - Christie

"I feel good about putting my daughter on Mandy." - Chuck