Tina Huston Fine Art

"The Savory Season"
Title: "The Savory Season"
Artist: Tina Huston
Size: 20" X 14"
Medium: Oil Paint
Materials: Fine linen canvas.
Price: $1520.00
Description: This is my third piece in a series titled "In The Days Of The Human Beings". Not so very long ago, before Seven-Elevens sprouted across the land, the people selected food according to the cycle of the seasons. During the short, bitter Winter days, the people ate heavy, high-fatted foods and seasoned with savory herbs that were picked and dried throughout the warm months. The women in the painting know their way around their frigid kitchen and can whip up one mean bison stew.
Payment Options


Please call or e-mail for appointments to see prints and original work for sale and for final pricing. I accept personal checks, money orders, cashiers checks, and major credit cards online. Originals and prints can be shipped anywhere in the world.

Online credit card payments can be made through PayPal. PayPal is a secured site where you can send payment by entering your credit card information and my business e-mail address. My business e-mail address is: tina@tinahuston.com. Simply select the PayPal button below and follow the instructions to make a credit card payment.

Please contact me with any questions. Thank you.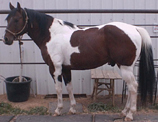 Beauty is in the eye of the beholder.

The above picture is of one of my school horse's named Rough Rock, otherwise known as Rocky. Rocky is an 11-year-old Paint gelding. I adore Rocky. Ironically, he is neither rough nor rocky. He has marvelous movement and he's the nicest guy a girl could have.