Tina Huston Fine Art

Along with horse training and riding instruction, I am a fine artist. Original artwork is for sale as well as giclee prints. I work in colored pencil, water color, pastel, and pen and ink. Please check back from time to time as I will be breaking into oil painting and clay sculpture. Please feel free to contact me with any questions. (Actual prints do not contain copyright text.)
"All The Earth Is A Path"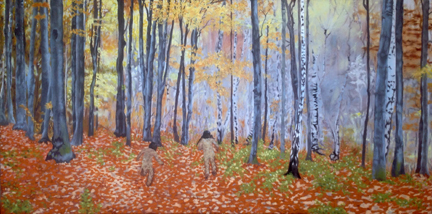 Title: "All The Earth Is A Path"
Artist: Tina Huston
Size: 48" X 24"
Medium: Oil Paint
Materials: Fine linen canvas.
Price: $4320.00
Description: This is my first piece in a series titled "In The Days Of The Human Beings". I was inspired to do this piece from two sources. One source is from the movie, "The Last of the Mochicans" where the mode of transportation was to run through the woods where there were no paths. I admire how fit and brave these people were and how they made the entire natural world around them their path. For them, breaking brush was the norm, which was a methaphor for how they lived their lives and forged this country. Their breath was endless.
Secondly, my closest childhood friend was named Robyn. Robyn and I broke a lot of brush together with our horses as well as on foot through the Wisconsin wood. We were given a lot of wiggle room as kids to explore, and all the earth was our path. Those were different times, and I thank our parents for letting us cut our teeth in the country, on the things from which life is truly made. I dedicate this painting to my childhood friend, Robyn Zutz-Legan, who to this day is an extraordinary human being.
Payment Options


Please call or e-mail for appointments to see prints and original work for sale and for final pricing. I accept personal checks, money orders, cashiers checks, and major credit cards online. Originals and prints can be shipped anywhere in the world.

Online credit card payments can be made through PayPal. PayPal is a secured site where you can send payment by entering your credit card information and my business e-mail address. My business e-mail address is: tina@tinahuston.com. Simply select the PayPal button below and follow the instructions to make a credit card payment.

Please contact me with any questions. Thank you.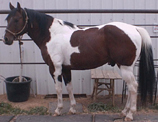 Beauty is in the eye of the beholder.

The above picture is of one of my school horse's named Rough Rock, otherwise known as Rocky. Rocky is an 11-year-old Paint gelding. I adore Rocky. Ironically, he is neither rough nor rocky. He has marvelous movement and he's the nicest guy a girl could have.