Fine Art

Along with horse training and riding instruction, I am a fine artist. Original artwork is for sale as well as giclee prints. I work in colored pencil, water color, pastel, pen and ink, and house paint. Please check back from time to time as I will be breaking into oil painting and clay sculpture. Please feel free to contact me with any questions. (Actual prints do not contain copyright text.)
"Pinus ponderosa Subsp. Pistallate strobillus"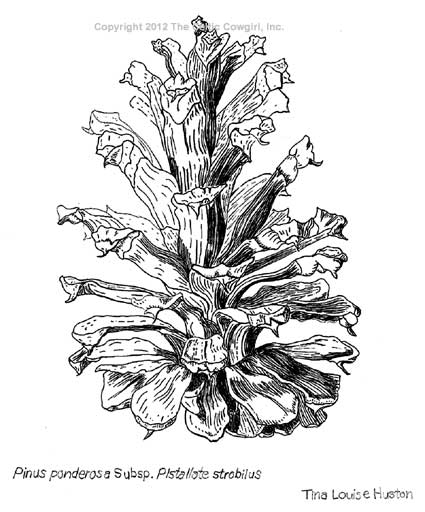 Title: "Pinus ponderosa Subsp. Pistallate strobilus"
Artist: Tina Huston
Size: 5" x 7"
Medium: Pen & Ink
Materials: Bristol vellum paper, Rapidograph pens, black india ink.
Price: $75.00
Description: A study of a Ponderosa pine cone. This species of pine cone grows its bracts (i.e., its scales) using the Fibonacci sequence. The Fibonacci sequence is a mathematical formula found in nature. One way the sequence is used is to grow plants in a way that is most condusive to the plant's survival. The Fibonacci sequence is used all around us. In fact, the human structure uses the Fibonacci sequence. Fibonacci is quite facinating and worth looking up.
Commissions

Please call or e-mail for appointments to talk about designs and pricing on commissions.

Online credit card payments are made through PayPal. PayPal is a secured site where you can send payment by entering your credit card information and my business e-mail address. My business e-mail address is: tina@tinahuston.com. Simply select the PayPal button below and follow the instructions to make a credit card payment.

Please contact me with any questions. Thank you.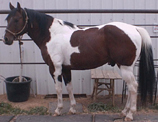 Beauty is in the eye of the beholder.

The above picture is of one of my school horse's named Rough Rock, otherwise known as Rocky. Rocky is an 11-year-old Paint gelding. I adore Rocky. Ironically, he is neither rough nor rocky. He has marvelous movement and he's the nicest guy a girl could have.